NOW EVERYONE CAN INVEST IN THE AMERICAN DREAM!
As many of you already know, Season 1 of America's Real Deal began airing March 3, 2020 on Facebook Watch. We will be releasing a new air date this spring. Facebook Watch is an incredible platform, projected to double the number of viewers of current television networks. And, rather than simply promote content, it is designed to engage communities, which is why it is statistically and fundamentally a perfect fit for America's Real Deal.
If Shark Tank allowed the audience to VOTE for their favorite entrepreneur, PURCHASE awesome products, and INVEST as little as $100 into the companies they think are worthy of investment, then it would be America's Real Deal.
In this revolutionary twist, the viewing audience is in full control of their own potential for success as well as of the potential success of the entrepreneurs pitching their businesses on the show simply by using a mobile app to vote for, purchase products, and invest.
Our Hosts & Contestants!
Entrepreneurs traveled from all across the nation, from Florida to Virginia, California to Texas, and of course from Utah, the hub of our ISM corporate office. These business owners underwent pre-audition interviews, applications, and three additional pitch rounds before they were able to pitch their business to our celebrity hosts Kevin Harrington and Forbes Riley.
Kevin Harrington was an original shark on "Shark Tank," and the creator of the Infomercial. Forbes Riley calls herself the "Billionaire Business Icon" as she has helped entrepreneurs sell over a billion dollars on QVC and Home Shopping Network.
Out of hundreds of applicants, our executive producers narrowed it down to our Top 16 entrepreneurs and from there they will be narrowing it down to our Top 8 contestants. These contestants have been vetted and their crowdfunding investment offerings have been accepted by the Securities and Exchange Commission to help protect the audience. We are doing something that has never been done before. Through the audience's engagement, America will decide the winner of America's Real Deal as they VOTE, BUY, and INVEST in the companies they believe are the REAL DEAL!
Now everyone can invest in the American Dream. This is the Future of Funding. 
So WHY Facebook Watch?
The chart to the right shows the growth of monthly users and viewers on social media platforms. In 2015 62% of people watched traditional TV, and 51% watched and streamed digital videos online using social platforms, according to Matchbox iab, and Social Allie.
Data from 2018 shows that more viewers are watching "TV" online! The future is moving towards a social-based platform. Watch the two-minute teaser of our show: https://youtu.be/cwwAO5pFWTc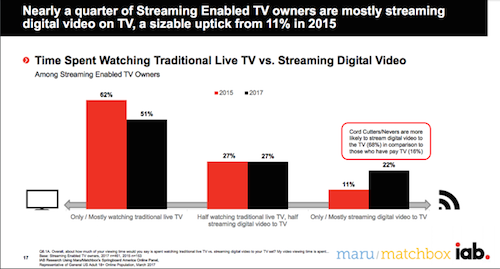 We know you are on the edge of your seats, anxiously awaiting to watch the full episodes! Here are a few of the reasons why the Executive Producers have made the important decision to announce the airing schedule of the Pilot Season of America's Real Deal, coming March 3rd, 2020, primarily on Facebook Watch.
Welcome to the team! - We've brought on a new, incredible Executive Producer with access to celebrity hosts and social media influencers that will help amplify the show even more. We are so excited for everything Robert Hatch and Aaron Edson are bringing to the table and wanted to just say, thank you and welcome to the team!  They are joining many committed executives all over the country, as well as Cameron Porter of Robinhood Studios, our on-the-road Spotlight Producers, Ron Ralston and Dave Lawrence, our Teaser Editors, Breann Almond and Cyra Olsen, our Executive Team Aaron Brandley and Alaina Rupe, and our Founder & CEO Adam Brandley.
We are thrilled to announce the new air dates and know that the timing of the show will help create the most interactive TV show ever created while driving more investments, revenue, and social media attention to the contestants on the show.
Every vote matters, every sale makes a difference, every investment has the potential to change the world.
So, stay tuned. LIKE and FOLLOW America's Real Deal on Facebook, and watch episodes of our pilot season on Facebook WATCH.
Contact:
Alaina Rupe
Executive Producer of America's Real Deal
www.AmericasRealDeal.com
833-ARD-SHOW