Promoted by Sudheer Kirthi Corporate Social Responsibility, their aim is to ensure that daily wage workers and their children get food to sustain themselves during these difficult times.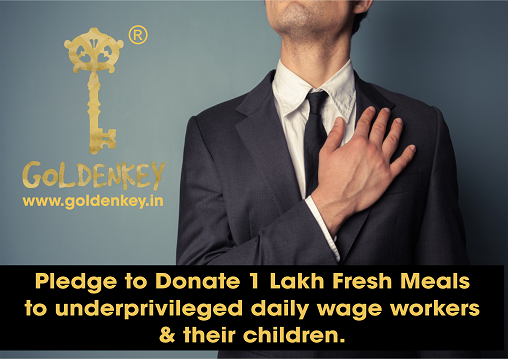 April 13, 2020 - The global health situation hasn't seen something at this scale in a while now. With the COVID-19 pandemic spreading to all the 6 continents of the world infecting almost 1.8 million people worldwide, it's surely is a tough time for many. Many countries in the world are on lockdown and many practicing social distancing. The lockdown in India has immensely affected the lives of daily wage earners who rely on their earnings to feel themselves and their family.
In such times, GoldenKey is doing their share of CSR through real estate donation to ensure that 1 lakh free meals are provided to the underprivileged daily wage earners and their children. They have pledged to donate these free meals not as a way of charity, but because they believe that it's the society's responsibility to help those who have been hit the worst by the lockdown in India in order to contain the COVID-19 pandemic.
The GoldenKey invites the public to get involved in this campaign and be a part of it in whatever way possible to and support the families as they believe that this war can be fought and won only when society comes together and shows its strength.
To get started, visit https://www.goldenkey.in/csr
Media Contact:
GoldenKey
Phone: 7661937777
Email: [email protected]