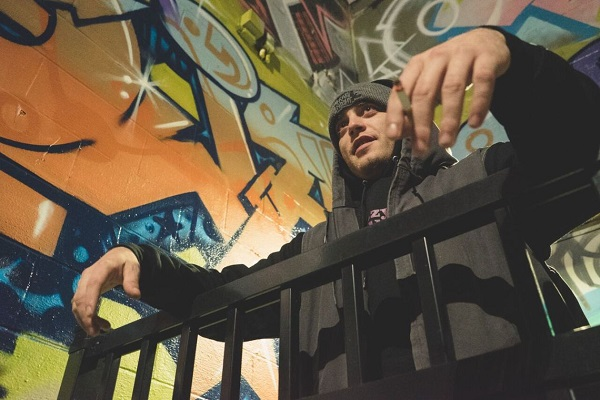 New England - 26 August, 2019 - New England rapper Ill by Instinct (IBI) is dropping his fourth release, his anticipated new EP entitled "The World is Tired of Poets." The EP is an inspirational collection that perpetuates IBI's long-standing tradition of motivational hip-hop music. Each of the eight tracks is a creative outlet about IBI's daily struggles. IBI touches on low paying jobs to sentencing disparities. The songs fuse the rapper's altruistic penchant for helping people to overcome their own struggles, with his positive take on life underpinned by a fun vibe. The boom bap style of the album's sound design maintains IBI's presence in Portland's hip-hop culture. The EP "The World is Tired of Poets," produced exclusively by IBI, is set for release this Spring and will be available from all major retailers, online streaming and local platforms.
ILL by Instinct (IBI), also known as Jesse Wagner, is a major player in the New England hip-hop scene. He is well-known for powering one of the local longest-running traditions, "Rap Night," alongside his partner in rhyme, (Nate) Shupe. They have long animated this weekly gathering of hip hop enthusiasts, yearly culminating into The Annual Ruckus Cup Classic, a rap battle between the sharpest tongues and cleverest minds around. The popularity of the music tournament has now brought it to its ninth year in 2019.
The rapper hails from Lewiston, in the middle-class suburbs of Maine where he began his musical journey at an early age, recording freestyles and demos on tape recorders. IBI moves onto Portland where he gets his first big break as the host of the renowned weekly Rap Night. IBI grows his network of talented local artists in New England and is often found opening and performing alongside some of the most distinguished hip-hop artists around. The artist is also working to get his music in steady rotation on Commercial and College radio stations in Maine to further his purpose to reach out to more people.
IBI is management by Real Hood Music, LLC.
https://twitter.com/illbyinstinct
https://www.facebook.com/jesse.wagner.524
https://www.instagram.com/illbyinstinct
http://realhoodmusicllc.com/portfolio/ill-by-instinct/
Video Link - https://youtu.be/UMplYBQtOyo
For booking & other business contact:
Glenn Wallace,
CEO,
Real Hood Music, LLC.
Email: [email protected]