Tons of toys and over 100 bicycles were gifted to kids during the Winter Wonderland program put on by The Howey, Hudson, Lowe Foundation in Atlanta. Also on hand for the 5th year in a row was popular radio personality and film writer/producer and director Tim Greene (front left – WWW.TIMGREENEFILMS.COM) and National Black Radio Hall Of Fame/Atlanta Chapter President Marsha "Radio Lady" George (front right) to help motivate the future broadcasting and filmmaking stars of tomorrow by introducing them to podcasting and short subject filmmaking. "These kids are amazing, and thanks to Oprah Winfrey starting The Oprah Winfrey Network and Tyler Perry building one of the world's largest film studios, over 90 percent of the kids now want to build and own their own broadcasting & filmmaking studio as well as create content for their generation. I let them know that the sky used to be the limit but now it is just the starting point of their super successful lives. The kids even knew how to synchronize the handheld Gimbal (camera stabilizer) to their cell phones within seconds. Years ago on my 15 city tours kids wanted to be rappers, now they want to own the record label and the building that label is housed in" say's Greene. To date Tim Greene has given out over 400 laptop computers to kids in underserved communities nationwide.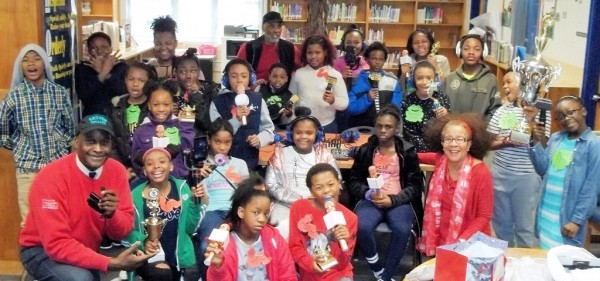 Photo By: Kenadae Turner
Pictured: with the 5th graders from Chapel Hill Elementary School are filmmaker/radio personality Tim Greene on the bottom left; Marsha "Radio lady" Washington George on the bottom right representing the National Black Radio Hall of Fame and in the back section Stephen C. Willis – Retired AT&T Technician.
AT&T's participation through the services of Director/General Manager of Network Provisioning Atlanta, Mrs. Sharon Cochrane was a complete success as her office donated 100 bicycles and bought many smiles on all the parents faces.
Radio Personality and Film Writer/Producer/ Director Tim Greene is a Sony Innovators Award finalist, a former top rated radio personality in Los Angeles, Philadelphia and Charlotte North Carolina and was producer and host of the TV & Radio show "Dance City From Hollywood" that aired on Bay FM in Japan. As a mega award winning filmmaker Tim Greene has been a panelist at The Los Angeles Film Festival (Directors Guild Of America's Main Auditorium-Low Budget Summit), The Philadelphia International Film Festival and The Pan African Film Festival. Tim has been featured in Backstage Magazine, The Hollywood Reporter, The Business Of Film Magazine, Show Business Magazine (New York), Power Networking and Filmmakers Alliance Magazine. As a songwriter and record producer, Tim has produced 17 single releases. As a former talent manager Tim is known for discovering 73 year old "Rappin Granny" and took her from the streets of South Central Los Angeles to starring in the Fox TV kid's series "Beetle Borgs", which was created by Haim Saban of "The Power Rangers" fame as well as over 35 national TV commercials and 17 feature films. Tim Greene also served as the Grand Marshal for the 17th "Kingdom Day Parade", which was seen on KNBC TV in Hollywood California. Tim has received a Certificate Of Commendation from The City Of Los Angeles for "Young People For Young People", "Men Who Cook And Care". As a celebrity tennis player in Hollywood Tim has won Tennis Tournaments with The Make A Wish Foundation (Beverly Hills Country Club) and John McEnroe's "Love Match" Celebrity Tennis Tournament (Riviera Country Club). Tim is also the creator of:
The syndicated Radio & TV Show Cooling Out With Tim Greene:
https://www.youtube.com/watch?v=jgBJPVgIg9o
And The New Kids Streaming TV & Radio Network:
To interview Next Kids Worldwide® creator Tim Greene for any Television, Radio, Newspaper and Blogger segments call: Amy Wiseman/Josh Bernstein
(323) 736 – 7731
[email protected]
www.nextkidsworldwide.com
www.timgreenefilms.com
The PR Possie
(404) 229 - 7641