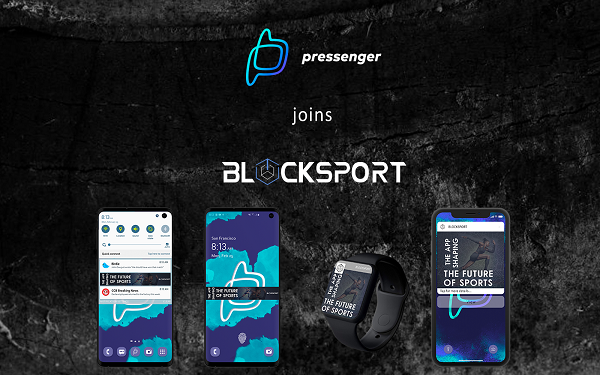 Hungary, June 18, 2020 – Pressenger is proud to announce that it is partnering with the Swiss-based Sportstech Blocksport.
Pressenger's innovative notification solution shall enhance Blocksport's white-label platform with Data-Driven Animations, GIFs, and Banners for captivating and engaging fan and brand communication. The visualized mobile notifications will add value to Blocksport's SaaS solution and shall increase conversion rates, user engagement, and ad revenues.
Vladimir Liulka, Blocksport's Co-Founder and CEO, says: "Pressenger´s visualized push notifications allow our clients to highlight special moments or share important messages directly to their fans via our app."
Mark Szegner, Pressenger's Co-Founder says: "Blocksport is making it possible for every sports club to have a high-quality mobile app to communicate and monetize different assets. Pressenger teamed up with Blocksport because we both believe that we can create value for rightsholders and users by combining Blocksport's in-app knowledge with our outside-app (notifications) expertise.
About Pressenger:
Pressenger, developed an innovative SDKI that allows app Owners to send animated, creatively rich, push notifications to their Users. We enable the app Owner to significantly increase engagement. Reliability, speed, security, technical support & custom solutions are as important to our Clients as our platform functionality. Conversion Rates can reach +50%.
About BlockSport:
Blocksport is a Swiss SportsTech specialized in digital solutions for the sports industry. The next-generation social sports platform is used by eSports and traditional Sports clubs to increase and monetize digital fan engagement. Blocksport provides sports clubs with a mobile solution to activate fans globally with a gamified and loyalty-based brand ecosystem that returns cash backs to clubs/fans, and analyses as well as profiles consumption data across the ecosystem for a higher personalization. More info: [email protected]
Contacts
For Pressenger:
Esther Soler
[email protected]
https://pressenger.com/