Is washing your hands or even wearing a mask enough to protect yourself, and your community?
Salt Lake City, Utah,  April 14, 2020 – Is washing your hands more often or wearing a mask doing enough preventative care to protect yourself, your loved ones, and your community at this time? Cutting Edge Oral Care does not believe this is the case.  They have recently introduced an antibacterial chewable tablet that takes 15 seconds to effectively kill oral bacteria, can be used on the go, and does not require water or a tooth brush.
"Viruses and many other sicknesses are spread directly through your mouth.  They may get on your body through hands or clothing, but it often came from someone's mouth.  And, most likely, the sickness gets into your body through the mouth.  Antibacterial oral care deserves some immediate attention," says company Co-Founder, Adam Ciboch.
"There is a reason why we are all being asked to stay 6 feet apart.  It's more than to just avoid hand or body contact.  It's really about avoiding coughs, sneezes, or saliva making contact with ourselves or other people.  Yes, our company's goal is to be innovative, but we wanted to do so in a manner that helps every single person worldwide, especially in the global crisis we are now facing.  That's exactly what this tablet was designed to do," says company Co-Founder, Matt Myers.  "We have clinical proof that our antibacterial oral tablets kill large numbers of bacteria and clean better than leading fluoride-based toothpastes.  Right now, imagine what our antibacterial tablets could do to further protect our front-line workers in public service and hospitals, people with underlying health complications, the elderly, and the homeless."
There are 20 billion bacteria in your mouth and they reproduce every five hours.  If you go 24 hours without brushing, those 20 billion become more than 100 billion!" per research methodology conducted by Dr. Walter Loesche, from the University of Michigan.  Surprisingly, this is not an urgent issue currently being addressed by the media.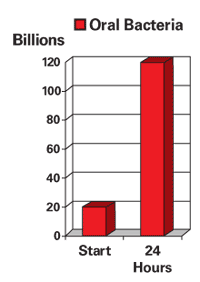 Having a clean mouth is very important and Cutting Edge Oral Care's proprietary antibacterial tablet kills more than twice the bacteria of the leading brand of toothpaste per clinical studies performed by two leading European University's.  Oral health is foundational to the health of mankind and is directly attributable to our mortality per the Mayo Clinic, "Oral health: A window to your overall health by the Mayo Clinic Staff." Mayo has recently coupled oral care health with respiratory mortality which is of paramount importance in this current pandemic environment.
"We really feel that we have an opportunity right now to impact society at a critical time," added Co-Founder, John Osland.
Reference Footnote(s):
ExoCyan®, the key ingredient in the tablet, is a patented and highly refined cranberry extract which supports oral health. In a clinical study performed at the University  of Bordeaux Segalen, researchers tested the effect on dental plaque by using our chewable tablet with ExoCyan® versus a leading Fluoride Toothpaste.  Test data was analyzed only from the volunteers who perfectly followed the protocol. The results were extremely promising: "66.5% of volunteers showed a decrease of the plaque index after the use of toothpaste tablet, whereas only 38.8% of volunteers showed a decrease of the plaque index after the use of a leading ® Fluoride Toothpaste."
A further clinical trial was subsequently conducted at Loma Linda University and demonstrated that our tablet has "a significant antimicrobial kill effect on common oral bacteria."
Dr. Walter Loesche, from the University of Michigan, conceived an elegant method of estimating both the total number of oral microbes and how fast they grow. He outlines the method in his book, "Caries, A Treatable Infection."
About Us:
About Cutting Edge Oral Care - Bringing Innovative Oral Care Products to Heal the World One Smile at a Time with 15 years of innovative research and development to improve oral hygiene.
The antibacterial tablet is composed of natural ingredients, has a pleasant mint flavor, and may be simply chewed and swished without any need of water or a toothbrush.  The tablets are manufactured in the United States.
Chew, Swish, Clean, Fresh.
Contact Info:
Matt Myers, Co-Founder +1 (801) 949-8279 [email protected]